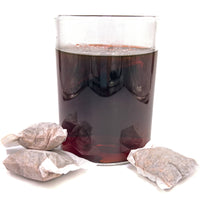 Betta Tea™ - Blackwater Botanical Tea Bags
Regular

$24.00
Sale

$24.00

Regular
Unit Price

per
Betta Botanicals developed Betta Tea™ in the Spring of 2021 to solve the issue of re-tinting a botanical aquarium. We went beyond just brewed tea in the aquarium and we combined a very nice blend of pure and natural botanicals that we feel do a better job than your standard conventional tea. 
There comes a time in our botanical aquariums when our tanks "just have too many botanicals" and the ecosystem cannot handle adding more leaves... Betta Tea™ solves this problem.
Hues of Betta Tea:
Maroon was launched in 2021 to help replicate Borneon Peat Swamps
Brown will be launched in the summer of 2023 to replicate South American Blackwater Habitats
Yellow will be launched in the winter of 2023 or in early 2024 
Now, we know there are many 'blackwater re-tinting botanical tea bags' out there on the market, and here is what sets ours apart:
We blended Betta Tea Specifically for bettas, but all fish love it!

The tea bag is fully compostable and biodegradable.
The Packaging and Product labels are home-compostable.
Betta Tea™ contains a blend of aquarium botanicals specifically used by betta breeders to both condition and help aid in disease recovery.
Our product is intended for all tannin-loving fish, reptiles, and amphibians.
How to use: We recommend using 1 Betta Tea™ Bag per 5-10 gallons of aquarium water as a starting point. Betta Tea™ can be placed into a mug of boiling water and steeped until the water has dropped to room temperature and then added directly to the aquarium. Betta Tea™ Bags can also be placed directly into the aquarium, canister filter, HOB filter, or above your sponge filter. Remove Betta Tea™ from the aquarium or filter after 3 days and give the tea bag one residual squeeze to release the tannins inside the botanical tea bag.
Commonly Asked Questions:
Will Betta Tea

™ lower my aquariums pH?

 If you use 100% RODI water we have seen that there is a mild reduction in pH. If your water has any buffering capacity, you shouldn't notice any change in pH at all.
How many gallons per Betta Tea

™ tea bag?

 We like to use 1 tea bag per 5-10 gallons, but you can use as many as you want to based on the richness of the color you want.
Why is there no preparation? Our suppliers process the botanicals in a way that we feel meets industry standards to allow you to add directly to your ecosystem. Betta Botanicals tests every new batch of Betta Tea™ before packing it into our compostable bags for sale.
How do I store extra? Leave extra tea in a sealed container in the fridge for up to 1 month. 
Quantities: Each order of Betta Tea™ comes with 32 individual tea bags.
Not for Human Consumption!!! NO PREPARATION REQUIRED!!!
Aquarium Botanical Location: Indonesia. 
Aquarium Botanical FAQs
Please reference our Shipping and Hassle-Free Return Policy at the bottom of the screen. All Products are packaged inside a COMPOSTABLE Ziplock bag and shipped safely to your door. 
Please refer to our botanical preparation instructions. These Botanicals are grown and harvested in pesticide-free environments and It is recommended to use 2-3 botanical pieces per 5 gallons to start, wait 5-7 days or the next water exchange and add some more.
Aquarium botanicals, leaves and seed pods are not for human consumption, ever. 
Commonly Asked Questions:
1) Will botanicals lower the pH of my water?
It entirely depends on your water chemistry. Soft water will allow the botanicals to lower your pH more than if you have medium or hard water. At Betta Botanicals HQ our tap water is Very Hard, ( 350+ppm) and we do not notice a change in water pH unless using Alder Cones or Macaranga leaves.
2) What are the white growths on my botanicals?
White growths are the colonization of biofilms and fungi in the aquarium. We call this the 'goo phase' and it is totally natural. Botanicals are fuel for the ecosystem and the populations of bacteria and fungi will naturally rise and fall.
3) I don't have Bettas, will these botanicals be okay for my fish?
100% yes. Our botanicals are for aquariums terrariums, vivariums and all natural enclosures.
4) I have goldfish and axolotls, what botanicals should I get?
We DO NOT recommend using botanicals that these fish can ingest. Botanicals like casuarina cones, small alder cones, and live oak are not suited for these animals. Large aquarium leaves like Indian almond, loquat, and jackfruit are preferred. 
5) When should I replace aquarium leaves?
We recommend letting aquarium leaves and seed pods entirely break down into beneficial detritus. You can absolutely remove them after they don't release tannins anymore, you just don't get all potential benefits of leaving them in the aquarium. 
Betta Botanicals Shipping and DOA Policy
All products from Betta Botanical show live shipping rates from your prefered carrier. We offer FREE shipping on USA orders over $50. Aquatic Plants have an additional $8 charge as they require expedited shipping which is either USPS Priority Mail or FedEx 2Day, depending on your location. Wood has a Flat Shipping fee of $8. If an item has an assigned shipping $ value to it, this $ value is applied even when the order total qualifies for free shipping due to shipping costs, packing material, and time to carefully package your products.
When do you ship live plants?
Live plants ship Mondays and Tuesdays for orders received by 9pm PST on the previous day. Live plants are shipped via USPS Priority Mail or Fedex Express 2Day. Live arrival is guaranteed as long as you follow the DOA Policy below.
How long does my order take to ship?
Live plant orders are only shipped on Mondays and Tuesdays to prevent them from being held over the weekend at the post office. This means it could take 6 days for your order to ship (live plant orders placed monday evenings after 9pm, ship the following Monday morning). Orders containing only botanicals will ship within 1-4 business days. Thank you!
What is Your DOA Policy?
Email us at info@bettabotanicals.com with photos of your plants within 2 hrs of delivery notification with the shipping carrier of the plants inside of the bag. Do not order plants if they will have to sit inside of your mailbox for an entire workday in 85+ degrees or in temps below freezing. Plants are perishable and we reserve the right to hold shipments until stable weather conditions on our end of shipping. Plants are not duckweed or snail free.


Do I have to Follow the Preparation Instructions?
We strongly recommend following the botanical preparation instructions. These instructions ensure that any 'potential contaminants' are removed if they find their way onto your leaves, bark, and seed pods.
easy to use and great color.
LOVE THESE!!
Adding tannins to my betta tank has never been easier! Blackwater botanical tea bags make it fast and fun to provide my boy with wonderful benefits.
You get A LOT of tea bags. Came perfectly and tans the water fast and effectively.